The History of ...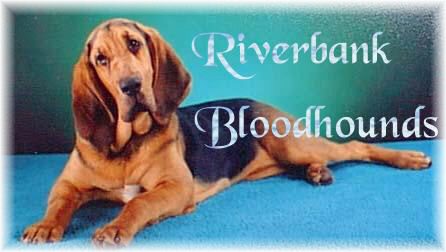 I met my first Bloodhound in 1981 when I met my husband Dave. She was the Celts Cinnamon Cookie. The most stubborn dog that has walked on the earth!
She taught me why Bloodhounds aren't allowed to run free, they DON'T COME BACK!
She also taught me how wonderful and loving this breed can be.
In 1983, she was bred to Ch Joys Decon Blue McGee, a red to red breeding.
She produced a large litter of 15, with 13 surviving puppies.
We began showing our dogs in January of 1984. We soon had our first home bred Champion, Ch Coffeys' Riverbank Red Alert. Within 2 years, we had Cookies' championship, and Red finished his Companion Dog title, becoming
Ch Coffeys' Riverbank Red Alert, CD.
Both Cookie and Red passed their OFA with good ratings.
In 1985, we bought Brewdun's Peaseblossom from Eva Dunkel in Illinois. "Sweetpea" was the light of our lives. She was an exceptional bitch with type, bone and an awesome temperament. Being a wonderful show dog from the start, she won Best of Opposite Sex at the 1986 Canadian National Specialty. Sweetpea and Red gave us a litter of 10 in 1987.
Shortly after the puppies came, Sweetpea was awarded her Tracking Title,
becoming Ch Brewduns Peaseblossom, TD.
She passed away in June of '87 from eating rocks.
From the litter with Sweetpea and Red, we had several outstanding puppies. There was Apollo, a black and tan that stayed here in the Northwest. He became a group placer in Washington State. Harpocrates, a Red, went to Alaska where he found a wonderful home with Mary Bruso, and was shown as a consistent group placer. Zephyrus and his sister Laia stayed at home with us.
Zeph was my best friend. His nick name as a pup was "Butterball" because when you touched him, he would melt into a belly up ball on the floor! He had the most wonderful temperament I have ever seen in a male. He adored children too. He was the best friend I have ever had. He became Ch Riverbanks Zephyrus in 1988.
Zephyrus passed away from cancer in December of 1994.
Before his passing, he produced, with Ch Freespirit Fame n'Slomoshun, what has become known as the "Masterpiece" litter. All the bitch puppies were named after famous works of art. All of the males were named after the artists. The litter was bred by Judi Soule' of Slomoshun Bloodhounds.
From that litter two bitches stood out. They were to become Ch Slomoshun Mona Lisa LaRosa, a Liver and Tan who went to Sharon Bardin. The second was Ch Slomoshun Riverbank The Maja, CD, MT, CGC. She was owned by Suzi Paine and Terri Coffey. Both of these beautiful bitches went on to produce some outstanding offspring.
Ch Masterpiece Maybe I'm Amazed, CDX,TDX,NA,NAJ is the product of The Maja and Ch Quiet Creek's Excalibur. To the best of my knowledge, "Lark" is the most AKC titled Bloodhound in the history of the breed. She is owned, trained and handled by Julie Hill, the most extraordinary trainer I have ever met! Along with Lark, The Maja produced Am/Can Ch Masterpiece Savoy Truffle, CD, CGC, MT, Ch Masterpiece I Am the Walrus, and Ch Masterpiece Ticket to Ride, MT. These wonderful offspring put their mother, Maja, into the American Bloodhound Club Hall of Fame.
With the passing of Zephyrus, my personal life took a turn. I was devistated by his loss which was followed within days by surgery on my neck. I was unable to handle a dog on leash again for over 3 years. While building a new home, Dave, Corrie and I lived in a rental house and then at my mothers. It took 2 years to build the home we had started and another 2 years to overcome the mud from the construction!
We had been "Houndless" for 4 years...
A very sad state of affairs, I must say.
In June of 1998, I began speaking with Kathy Reid in Ontario, Canada about a puppy.
And now, with Sasha, Mason's Fainthearted Fortune,
Riverbank Bloodhounds is back....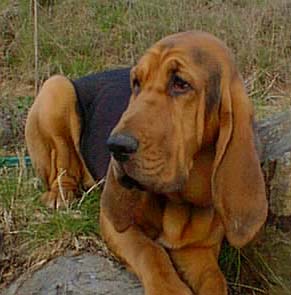 WebDesign by Moore Illustrations