Ch Riverbanks Zephyrus
February 1987 ~ December 1994
Zephyrus was my very bestest buddy. We spent every day together
while he was growing up. Zeph loved the water. When we lived in Redland,
Oregon, we had a 1/3 acre pond that he loved to chase ducks in!
He also loved opposums. He would love them so much that he would flatten them!
Zephyrus saved our home in 1994. We had a house fire and he, his sister Laia
and our Tibetan Spaniel, Chip, raised such a ruckus that our neighbors came
to see what was wrong. The neighbors called the fire department.
Thanks to the dogs, we had a home to come back to that night!
Zephyrus loved ear and chest scritches. He loved to snuggle in bed at night.
He loved to torture the cats. He loved to play "The Ugliest Dachshund".
When ever he saw a Dachshund, he would drop to his belly and whine!
Zephyrus had a very small amount of Mantrailing training.
In 1989 we were at a SAR meeting in Washington State. Jan Tweedie and Sid
Harty began playing catch over his head with a baby doll containing cadaver material.
Poor Zephyrus would jump into the air and CRY each time the baby doll flew over his head!
So many memories Zephyrus, so much love.
I miss you every day.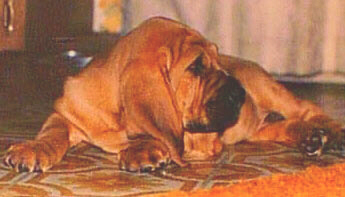 I ONLY WANTED YOU

They say memories are golden
well maybe that is true.
I never wanted memories,
I only wanted you.
A million times I needed you,
a million times I cried.
If love alone could have saved you,
you never would have died.
In life I loved you dearly,
In death I love you still.
In my heart you hold a place
no one could ever fill.
If tears could build a stairway
and heartache make a lane,
I'd walk the path to heaven
and bring you back again.
Our family chain is broken,
and nothing seems the same.
But as God calls us one by one,
the chain will link again.
WebDesign by Moore Illustrations